If you've read a single Disney Planning book (or been around this site for long), you know the bread and butter of a Disney vacation plan is the Touring Plan.
A touring plan will be your home base – it outlines your plan for the whole trip. All the attractions and experiences you'd like to visit, dining plans and reservations, and FastPass+ reservation times. Families without a touring plan are the ones who walk through the Main Gates at the Magic Kingdom, grab a map and immediately look overwhelmed.
Without a touring plan, there is simply no way you can do everything you want to do in a trip to Walt Disney World.
BUT! You don't have to worry about anything, because I have made an interactive touring plan that you can easily fill out and print from your home computer. And it's totally free! (Because I adore my fellow Disney planners)
This Disney World Touring Plan Spreadsheet will help you plan out your day and help you know exactly when you should schedule your dining reservations and FastPasses.
CLICK HERE TO Access the Disney World Touring Plan Spreadsheet
How to Use the Disney World Touring Plan Spreadsheet
Here's exactly how to use the touring plan spreadsheet. First, you have to access the spreadsheet.
If you have a Gmail Account
You MUST click File and then Make a Copy
If you try to edit the sheet as soon as you open it, it will say you do not have permission to edit. Think of the spreadsheet at that link as the "Maser Copy". If you edited that master copy, everyone else who visited the link would see your plans. That's why you MUST click File > Make a Copy so that you can have a copy of your own.
Rename the spreadsheet to whatever you'd like.
Click the tabs at the bottom of the spreadsheet to see days 6-10
NOTE: To use this Spreadsheet if you have a gmail account click File > Make a Copy.

If you don't have a gmail account, click File > Download as > Microsoft Excel.
If you do not have a Gmail Account
Click File
Scroll down and click 'Download as'
Click 'Microsoft Excel'
You should now be able to access the document from the Excel program on your computer.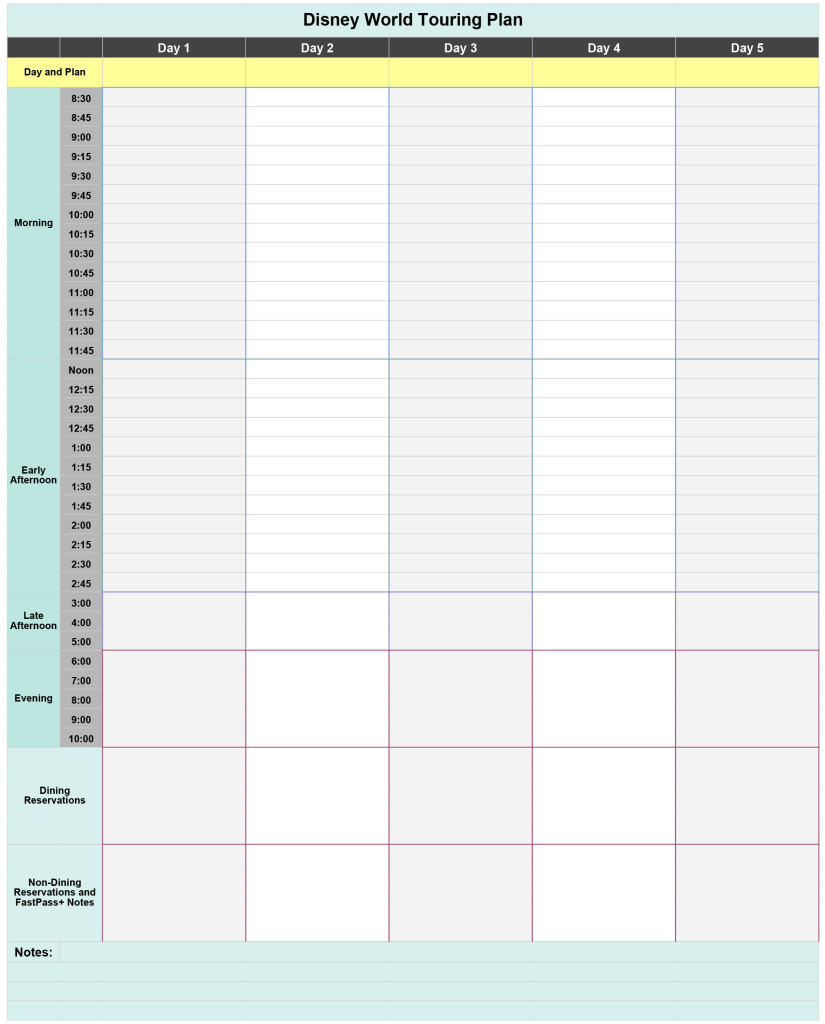 Now that you have made your own copy of the Walt Disney World Touring Plan Spreadsheet or downloaded it to your computer, it's time to start planning.
I like to start with my party's "must-do" list. I use the Walt Disney World Top 10 Printable to see their wishlist at a glance.
Then I consult with expert touring plans like Easy WDW's Cheat Sheets, TouringPlans.com, and Undercover Tourist's Touring Plans. These touring plans will give you a general idea of what you can fit in a day and how long each ride should take. They are a great template to help you avoid long lines and bottlenecks within the park.
Expert touring plans are a great place to start, but sometimes there are rides and shows that we prefer to skip. I edit these plans using my Walt Disney World Touring Plan Spreadsheet to create a plan that will be perfect for our family.
Here's a preview of Days 1-5 of my completed Disney World Touring Plan Spreadsheet: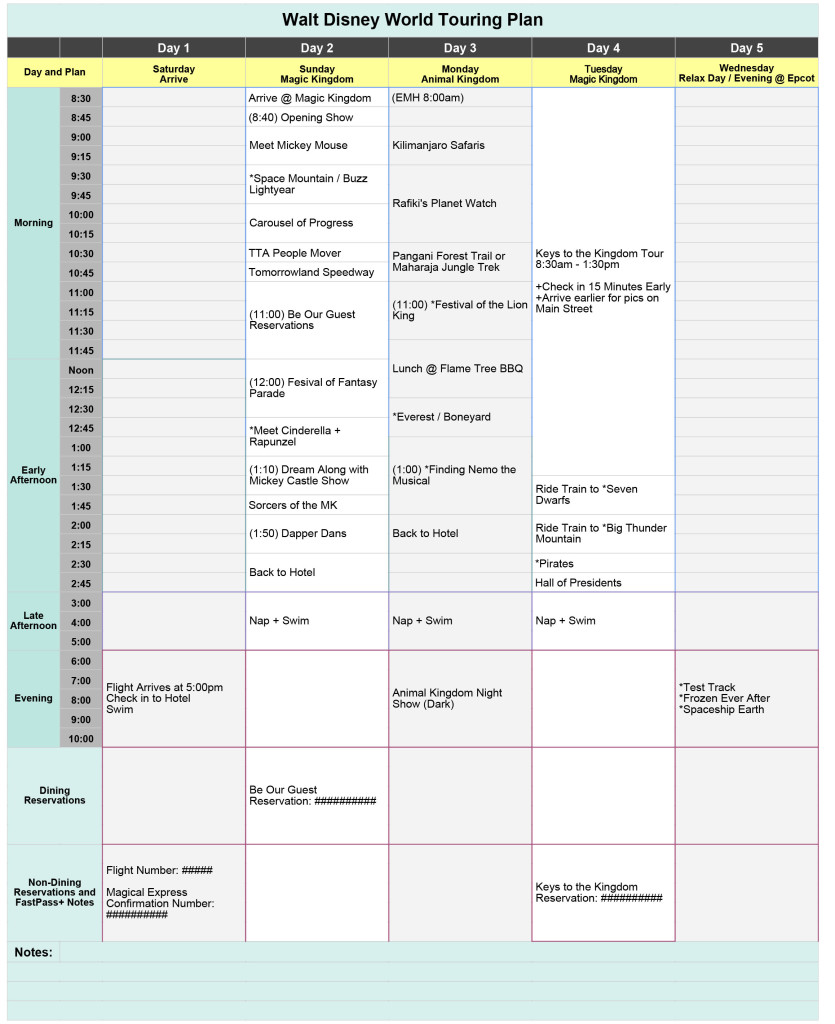 If you would like even more options for touring plans, including park specific touring plans, check out the Ultimate Walt Disney World Vacation Planner in our shop. It has more than 50 pages of useful Walt Disney World planning sheets that you can download and print as many times as you'd like.
If you love this Walt Disney World Touring Plan Spreadsheet, please do us a favor and Pin it or Share it with your friends!
SaveSave
SaveSave
GET INSTANT ACCESS TO MY LIBRARY OF FREE DISNEY WORLD PRINTABLES!
Sign up to receive FREE Walt Disney World printables, available exclusively to subscribers!
For more Disney fun, join the 'Pre-Launch' of our Facebook Group where you can join in a community of Disney planners to ask questions, win prizes, and talk about all things Disney! https://www.facebook.com/groups/1161520683953860/